This refreshing drink combines some of the best that Summer has to offer. It does more than just taste delicious and quench your thirst. This glass of yum will help keep you hydrated when the temperatures soar, and replenish some of the electrolytes we lose in the peak of Summer.
Strawberries are full of vitamin c, antioxidants, minerals, phytonutrients and even B vitamins, plus they're readily available in Summer when they taste their best. Coconut water is naturally high in calcium, magnesium, phosphorous, sodium and potassium so is known as nature's sports drink. The addition of ginger helps improve digestion and boosts immunity while the himalayan salt helps you keep your electrolytes balanced & together all these lovely ingredients help to:
- keep you hydrated
- avoid heat exhaustion
- alkalise the body
- keep your electrolytes balanced in hot weather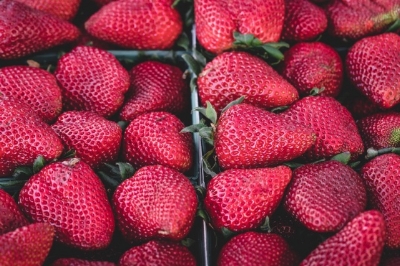 Ingredients (to make 2 large glasses):
250 ml unsweetened coconut water
1 cup hulled fresh or frozen strawberries
juice of half a lemon
a small handful of mint leaves
thumb size piece of peeled fresh ginger
1/2 tsp raw honey
sprinkle pink himalayan salt
(optional a handful of ice cubes)
Method:
Combine all ingredients in a blender & whizz up until smooth. Serve immediately & devour!
Top tip - This is also a great tonic following a gastric bug or gastric flu to settle an upset tummy whilst replacing electrolytes.
* If you suspect you've developed heat exhaustion or developed severe electrolyte loss, and you're suffering from severe cramping or lightheadedness, or a rapid heartbeat, seek immediate medical attention.